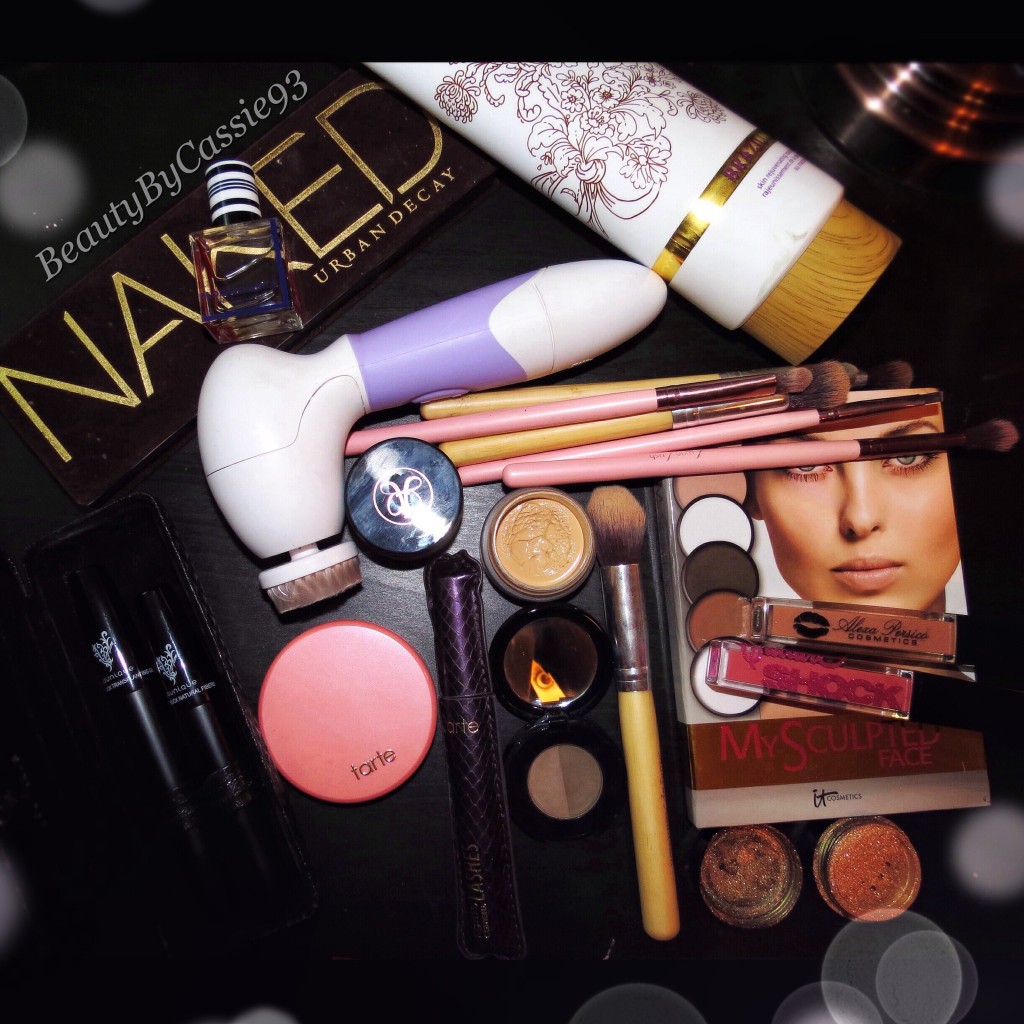 I've been loving a bunch of products the past few weeks and I thought I'd share them with you all.
Here's a list of the products I've been absolutely loving:
Vitagoods Spin for Perfect Skin brush, which comes with 4 different brush heads(Use the code BeautyC33 for a 70% discount on www.vanityplanet.com. The final cost will be $30 and includes free shipping for the United States & Canada.) This brush system has been amazing for my skin! In my opinion, it's comparable to my Clarisonic Mia 2. It's extremely gentle on my skin and removes all of the dirt and dead skin cells.  I also love how it comes with 4 different brush heads. For a more info on this system check out my separate blog post reviewing it.
Next up is the @itcosmetics My Sculpted Face Palette. This bad boy is amaaaazinggg. Don't get me wrong, I love my Anastasia Beverly Hills Contour Kit, but this one is more accessible since the ABH one is currently out of stock.  The It Cosmetics palette can be found at ULTA for $38.00.  Another reason I enjoy this palette is because the powders are waterproof.  That really is essential for me since I live in the hot, humid South.
I've also been obsessed with my rose gold @luxielush brushes.  First off, they're gorgeous! But beyond aesthetics, they have synthetic hair and blend all of my cream, liquid, and powder products out flawlessly.  I can't get enough of them! Use the code Cassie for 15% off www.luxielush.com/
I also adore my @hairandmakeupaddiction brushes. They're similar to the Luxie Lush brushes in that they're both made of synthetic hair and are super soft.  I love these guys as well.
Another recent favorite has been @tartecosmetics Amazonian clay blush in Captivating.  This is the most perfect peachy, coral blush.  It's matte and long lasting.  I've pretty much been wearing it everyday lol.  Love it!
Next is @tartecosmetics Lights, Camera, Lashes mascara.  If I recall correctly, I've been using this since November of 2013.  I only wear it on my lower lashes since it doesn't seem to hold the curl of my upper lashes.  However, it looks stunning on my lower lashes! This mascara is great because it conditions your lashes as well.
My newest favorite is the @tartecosmetics Brazilliance self-tanner.  I started using this April 24th and it's pure magic! This was the first self-tanner I had ever used and it definitely changed my opinion of them.  It creates such a gorgeous, natural looking tan and you see results within 8 hours of application! I have a before and after pic on my Instagram(with 3 applications).  So, if you're in the market for a great, streak-free, "long-lasting" self-tanner, check this out!
Next are the @anastasiabeverlyhills Pro Concealers.  These guys are soooo good! (I have a separate blog post reviewing them). But overall, I love them because they provide such full coverage, work beautifully for contouring, and are great for under eye circles.  I never experience any creasing(I always set my face, including my under eyes, with powder).
@anastasiabeverlyhills Brow Power Duo in Medium Brown has been a long-time favorite of mine.  I've been using it for almost a year and it never fails me! It's the perfect shade for my hair and has great lasting power on me.
@cultureshockcosmetics High Frequency Luster in Joy has been one of my favorite glosses lately since it's a perfect coral shade for Spring.
Next, one of my all-time favorite nude glosses, @alexapersicocosmetics Naked Lip Velour, is something I've been reaching for whenever I do a dark smokey eye.  It's just a gorgeous nude!
@alexapersicocosmetics HD pigment in Pixi Dust has been another recent favorite, it's such a beautiful shimmery golden color that I love to wear on my lid and lower lash line and pair with bronzer for an all-over glow-y look which is perfect for Spring and Summer.
The @urbandecaycosmetics Naked Palette, of course, makes my favorites list!  I recently purchased this, I'd say, within the past few weeks–I know… I'm SUPER LATE in jumping on the bandwagon– and I've been reaching for it non-stop.  It contains some of my favorite neutral shadows and is easy to create an everyday look without even thinking.
So, I've recently become a perfume addict and Florabotanica by @Balenciaga has become one of my all-time favorites(how many times can I say favorite? lol).  I don't even know how to describe it but I'll try… It's definitely a classy, mysterious, and sexy scent in my opinion.  The scent definitely develops the longer you wear it on your skin.  The lasting power is phenomenal on me(almost a full work day.  Maybe even longer) and it goes extremely well with my body chemistry.  The notes include: Carnation, Wild Mint, Turkish Rose Essence, Hemp Leaves, Vetiver Roots, and White Amber.
My last recent favorite is Moodstruck 3D Fiber Lashes mascara by @3dlashesbycandicec.  I received this product for review a few weeks ago and now I'm hooked!  It adds incredible length and volume to your lashes(I have an extreme before and after pic on Instagram).  Overall, I love that it's buildable so you can add minimal length and volume or go all out and achieve super dramatic lashes without falsies.