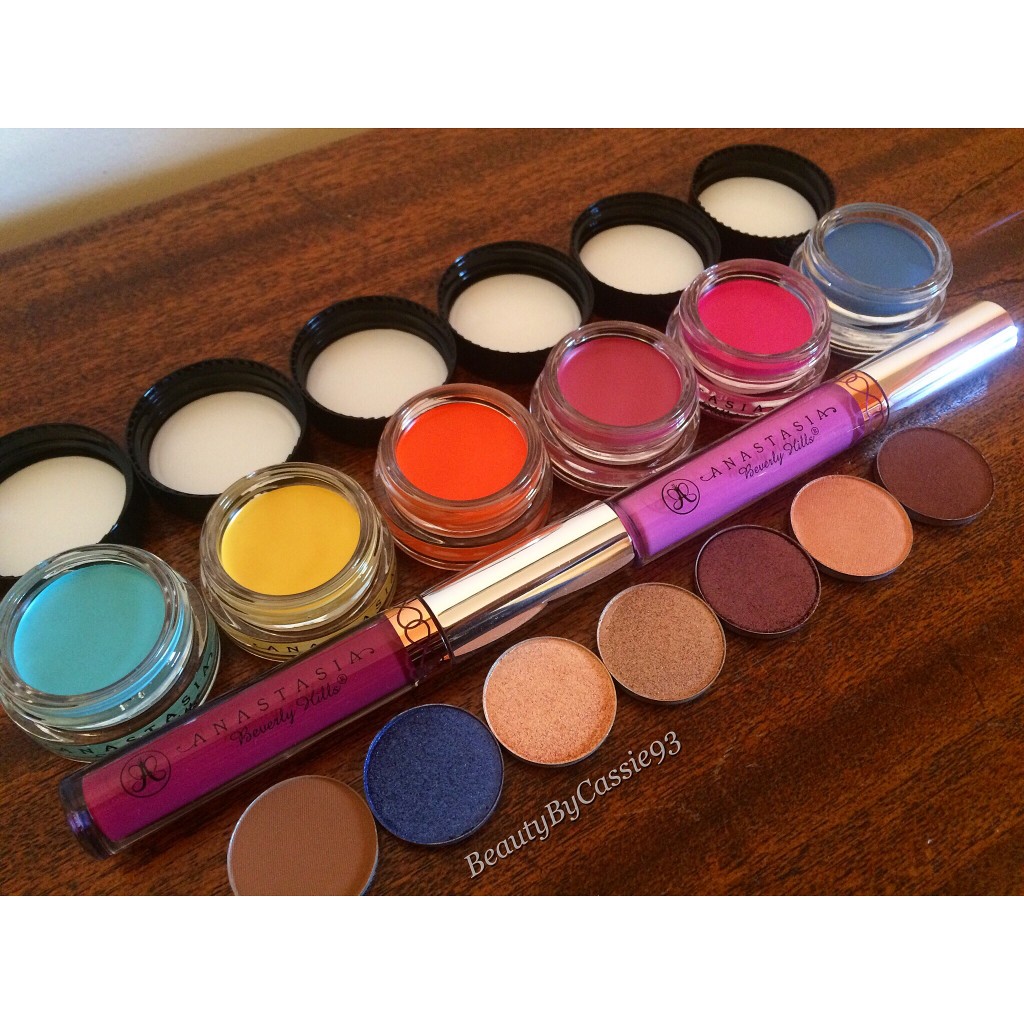 The  new Anastasia Beverly Hills Summer 2015 Collection is filled with a bunch of fun, bright colors.  I'm glad they've also included some neutrals as well.  All products will be available on May 15th on Anastasia's website, Macy's website, and Macy's stores.
The products from the collection that I'm most excited about are the new liquid lipstick shades, which include Craft and Unicorn.  Craft is my absolute favorite out of the two.  It's a gorgeous dusty plum looking shade.  The sheet included with the products states that it's a sparkly plum but I don't detect any sparkles whatsoever.  That's perfectly fine with me though since I prefer matte shades.
At first glance Unicorn reminded me a lot of Bambi, another liquid lipstick shade in Anastasia's line.  However, after swatching Unicorn I definitely realized it's more of a muted lavender.  I prefer it over Bambi because Bambi is more of a neon, in your face color.
The Liquid Lipsticks retail for $20 each.
Next up are the new Waterproof Crème Color shades.  Every shade is absolutely beautiful and highly pigmented.  Every shade just screams Summer.  There are a total of 6 new colors: Ice Blue, Yellow, Coral Reef, Sunset, Barbie Pink, and Ocean.  The crème colors can be used as eyeliners or eye shadow bases.  They're crease-proof and smudge-proof which is a bonus.  Each one dries to a matte finish and contains no sparkles.  I think it's interesting how they included two pink shades because it's not everyday that you come across pink eye shadow bases or even pink eyeliners.
Waterproof Creme Colors retail for $18 each.
Last but not least are the new eye shadow singles.  They retail for $12 each, four for $40, or eight for $70.  Included in the collection are Fawn, Star Cobalt, Peach Sorbet, Amber, Labyrinth, Surface of the Sun, and Cognac.  As always they are excellent quality.  They're super pigmented and easily blendable.
Fawn: Soft, neutral olive.  (Ultra-matte finish)
Star Cobalt: Electric, galaxy blue.  (Metallic finish)
Peach Sorbet: Sultry, rose champagne.  (Metallic finish)
Amber: Rich, multi-dimensional gold.  (Satin finish)
Labyrinth: Smoldering, deep orchid.  (Metallic Finish)
Surface of the Sun: Warm, shimmery gold.  (Satin finish)
Cognac: Dramatic, copper-flecked brown.  (Satin finish)