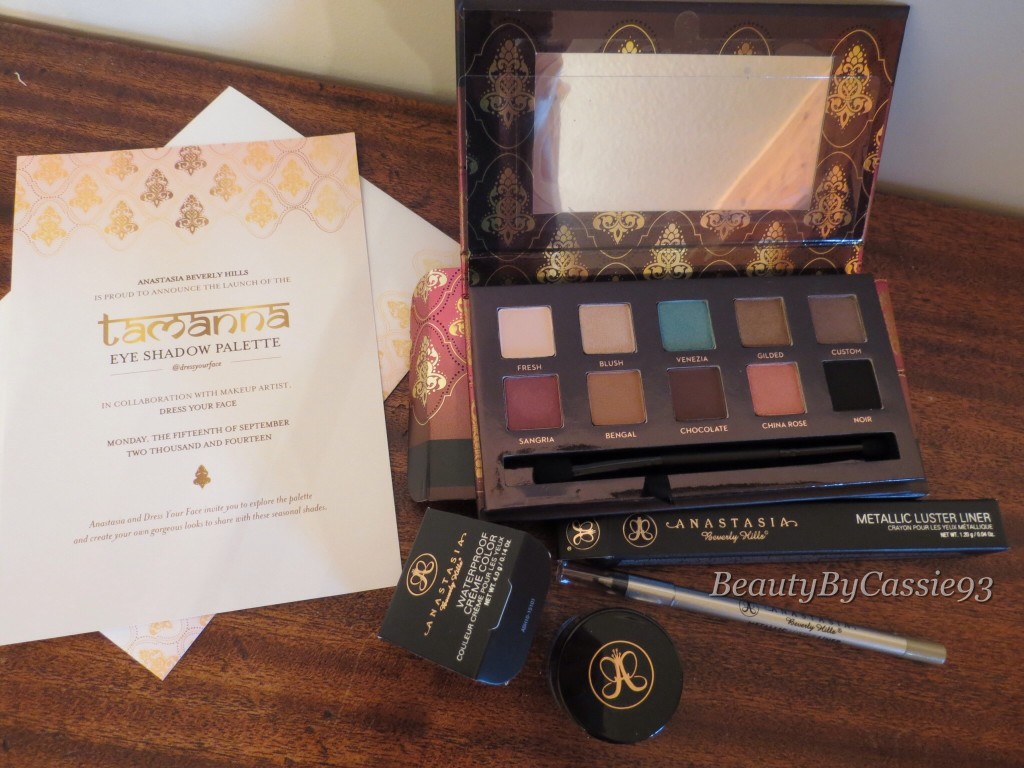 Recently, Anastasia Beverly Hills collaborated with makeup artist Tamanna Roashan(@dressyourface on Instagram) and launched the Tamanna Palette.  The palette includes 10 pigmented eyeshadows that are especially perfect for the upcoming Holiday season.  The Tamanna Palette retails for $29.  Anastasia Beverly Hills also launched the Waterproof Crème Color in Azure and the Metallic Luster Liner each retailing for $18.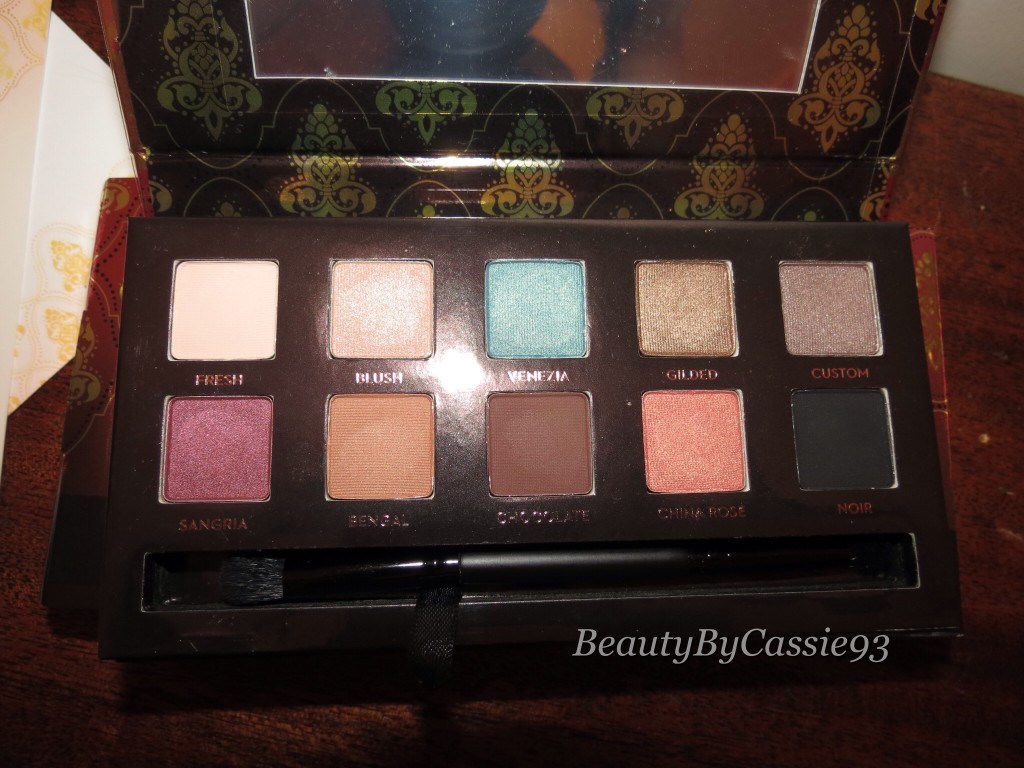 For the past few weeks of owning the Tamanna Palette, I have created numerous looks ranging from dramatic to simple.  The palette contains a few matte shadows as well as shimmer and satin finishes.  I really enjoy this palette and think it contains some beautiful shadows.  It also comes with a double ended eyeshadow brush.  It's the standard double ended brush that Anastasia always includes with her eye palettes.  It has a pointed pencil brush on one end and a flat shader brush on the other.
Top row:
Fresh: It's a light nude shadow that blends in with my skin tone. It's a perfect shadow for an all over lid color or even a subtle highlight.
Blush: It's a pink toned shimmery champagne shadow.  I absolutely love this shade for highlighting my tear duct.
Venezia: It's a beautiful shimmery teal/blue shadow that would be perfect as a pop of color along the lower lash line.
Gilded:  It's a gorgeous shimmery bronze shadow.  This shadow is extremely similar in color to Maybelline's Color Tattoo in Bad to the Bronze.
Custom:  It's a beautiful shimmery taupe shadow.
Bottom row:
Noir: It's an extremely pigmented matte black shadow.  This is a great shadow to line your eyes with if you don't feel like using a traditional eyeliner and want a softer looking line.
China Rose:  It's a beautiful rose gold shade.  This is probably my favorite shadow in the entire palette.
Chocolate:  It's a lovely warm matte brown shadow.  I love this one for adding depth to my eyeshadow looks.
Bengal: It's a nice medium brown with a satin finish.  This is a great transition shade.
Sangria:  It's a pretty shimmery purple/wine shadow.  This color is amazing for making brown, green, or hazel eyes pop.
Overall, I'm not disappointed with any of the shadows in this palette.  The pigmentation is wonderful and I think the Tamanna Palette is definitely worth $29.
I've created a smokey rose gold look using the palette.  For all of the details on this look, check out my Instagram account.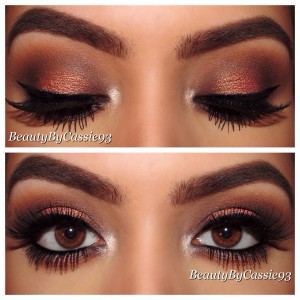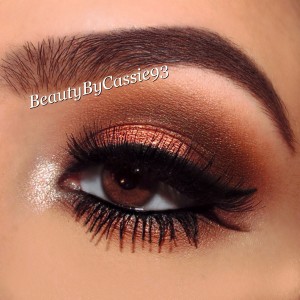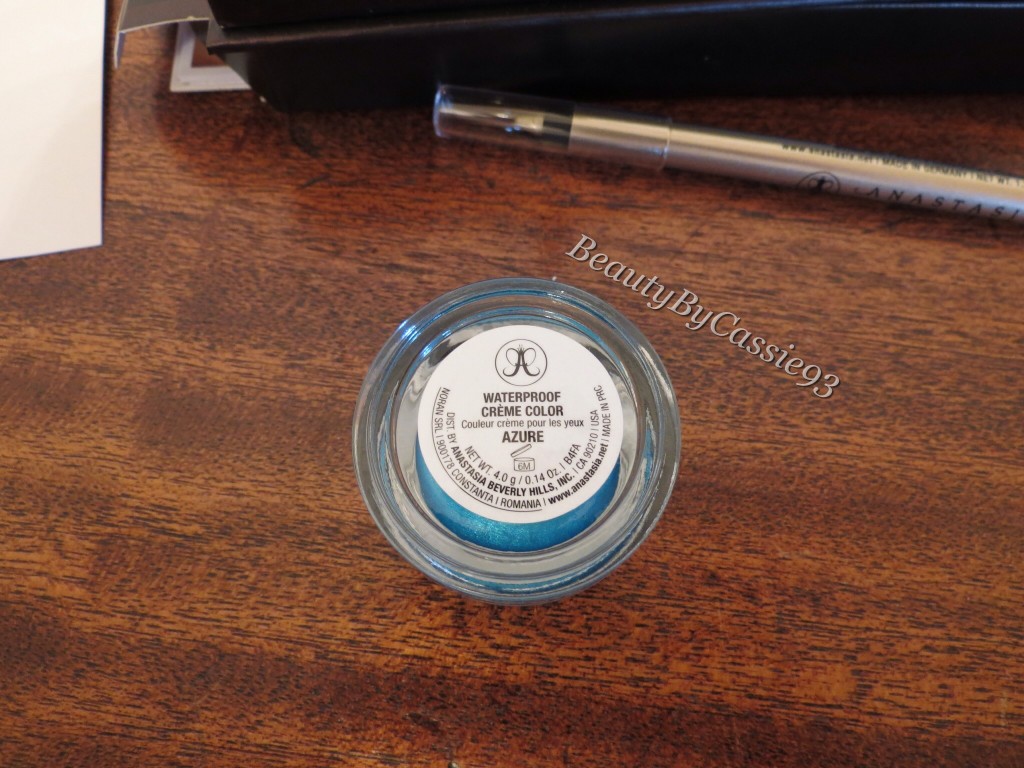 The Waterproof Crème Color in Azure is a cream product that can be used as a cream shadow or an eyeliner.  It's smudge proof and crease proof and is a gorgeous blue color.
The last product, Anastasia Beverly Hills Metallic Luster Liner in Liquid Gold is a super soft pencil that glides on effortlessly.  It's a pretty metallic gold color and I love using it on my waterline to brighten up my eyes and make myself look wide awake.