We've all had those days when we're exhausted but don't want to look like we've been up all night.  Whether you've had a late night studying or were out partying with friends, you can fool everyone with these tips:
One thing you can do is make sure you use a highlighting concealer under your eyes to brighten up the under eyes and conceal any dark circles you may have.
Another way to appear more awake is to curl your eyelashes and apply some mascara to your upper and lower lashes.  Curling your lashes opens up the eye.  You can even take it a step further and apply some false lashes which will make your eyes appear larger and more awake.
Also, you can line your waterline with a cream colored pencil or a shimmery champagne colored one.  You'd probably want to avoid black liner on the waterline just because it can tend to close up the eyes and make them appear smaller.
Another tip is to add a shimmery eyeshadow to the inner corners of your eyes.  This highlights the area and brings light into your eyes.
You can also line your upper lash line.  This will make your eyes appear larger.
In the picture below I've utilized the tips I've mentioned.  As you can see I appear wide awake and bright eyed.
Complete product details:
Simple eye look with a pop of teal using 
Anastasia Beverly Hills
contour powders in Vanilla and Nude, ABH Metallic Luster Liner in Liquid Gold, ABH Waterproof Creme Color in Azure, 
Cultureshock Cosmetics
eyeshadow in Emerald, 
Hair and Makeup Addiction
brushes, are 
Tarte Cosmetics
Amazonian Clay Waterproof Brow Mousse in Taupe, their Amazonian Clay tinted brow gel in Taupe, and Luna @lapetitlapinlashes.
Product info:
1.) Prime your lid(I used Urban Decay Anti-aging Primer Potion).
2.) Apply Vanilla all over your lid.
3.) Blend Nude into your crease.
4.) Line your upper lash line with Azure.
5.) Apply Emerald over top of Azure.
6.) Line your lower lash line and waterline with Liquid Gold.
7.) Apply @lapetitlapinlashes in Luna, @tartecosmetics Lights, Camera, Lashes mascara to your lower lashes, and highlight your tear duct with a champagne shadow.
On my brows I used @tartecosmetics Amazonian Clay Waterproof Brow Mousse in Taupe and their tinted brow gel in Taupe.
Here's the complete look: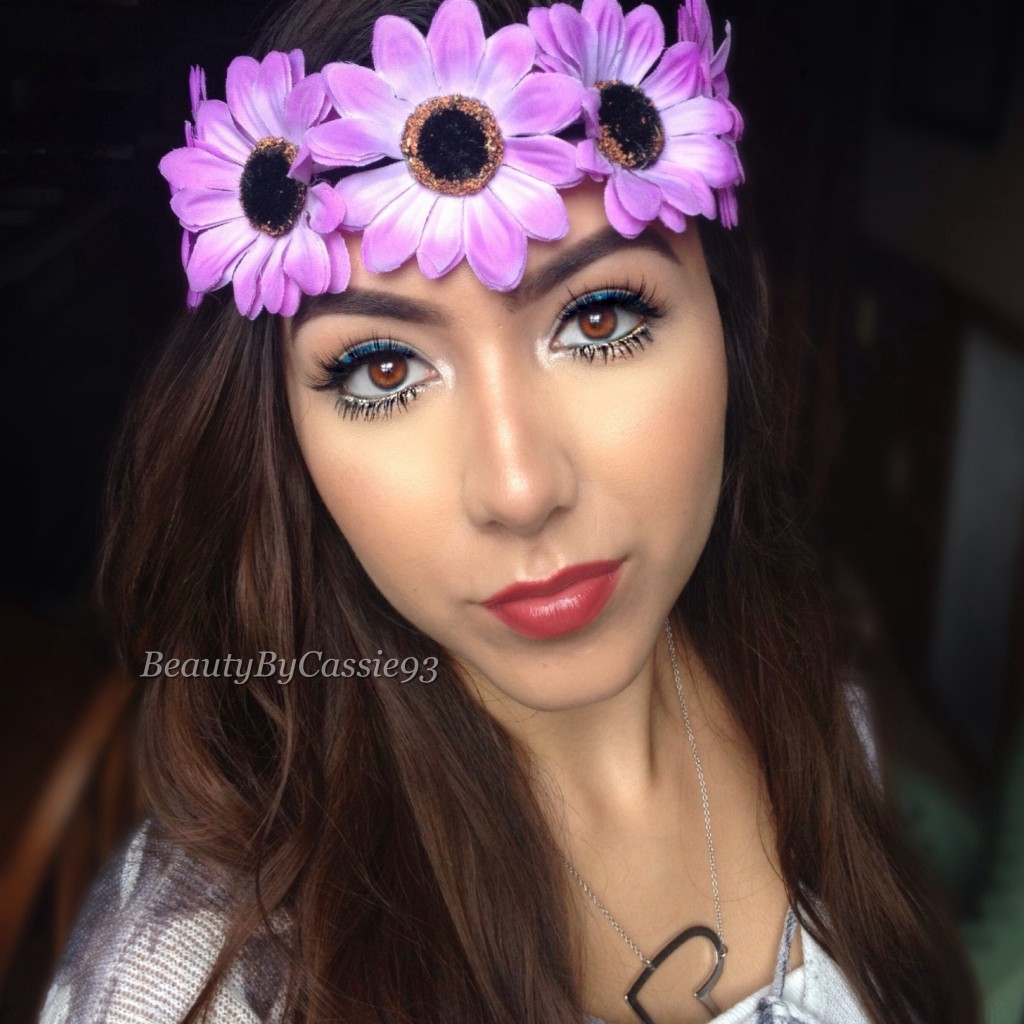 The flower halo is from Mad For Halos.