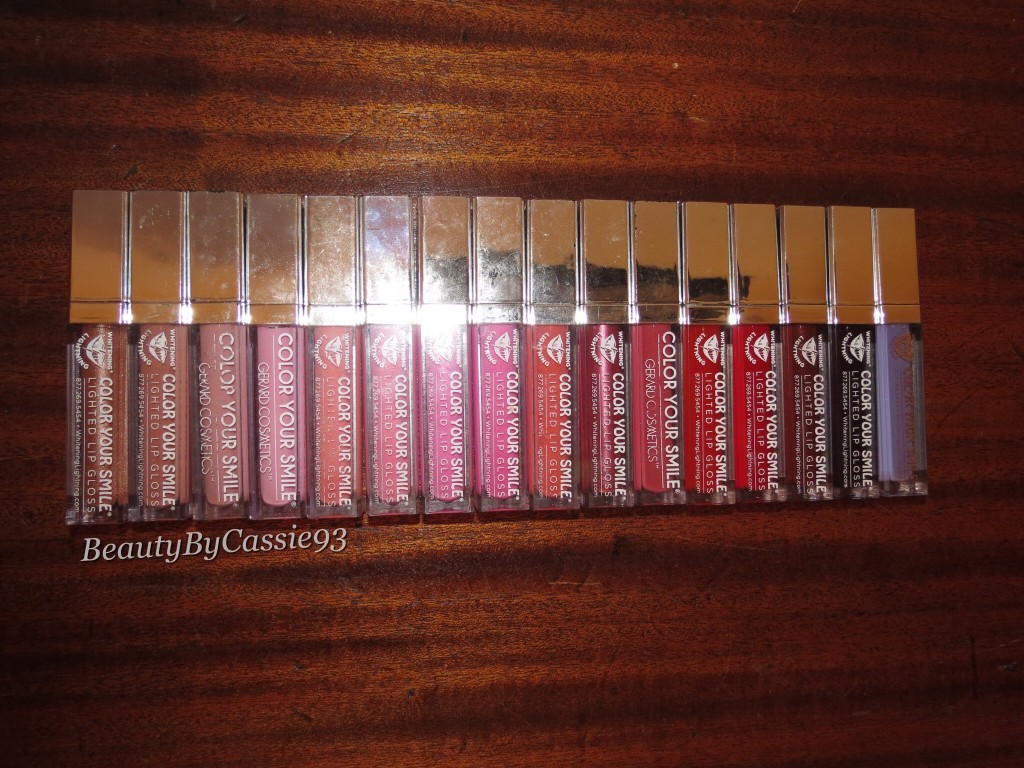 If you watch YouTube beauty videos or follow beauty bloggers on Instagram you may have heard of Whitening Lightning.  It's a teeth whitening company that also sells beauty products.  I have a number of Whitening Lightning Color Your Smile Lighted Lip Glosses and I must say I really do love them.  They're lip glosses that incorporate an LED light and a mirror.  At first they sounded quite gimmicky.  But truthfully, the glosses are really opaque and beautiful.  The mirror and LED light also come in handy if you're out at night.
The Color Your Smile Lighted Lip Glosses are packaged in a rectangular tube which I like because they don't roll around and fall off flat surfaces.  On one side of the gloss is a mirror, which comes with a sheet of plastic that you have to remove before you can use it.  The mirror isn't the best quality but it does the job.  You do have to be careful not to scratch it up though.  If you're like me and carry around a ton of lip glosses and other makeup products I recommend storing your Color Your Smile Lip Gloss in a part of your purse that doesn't have a million other things that can rub against it and damage the mirror.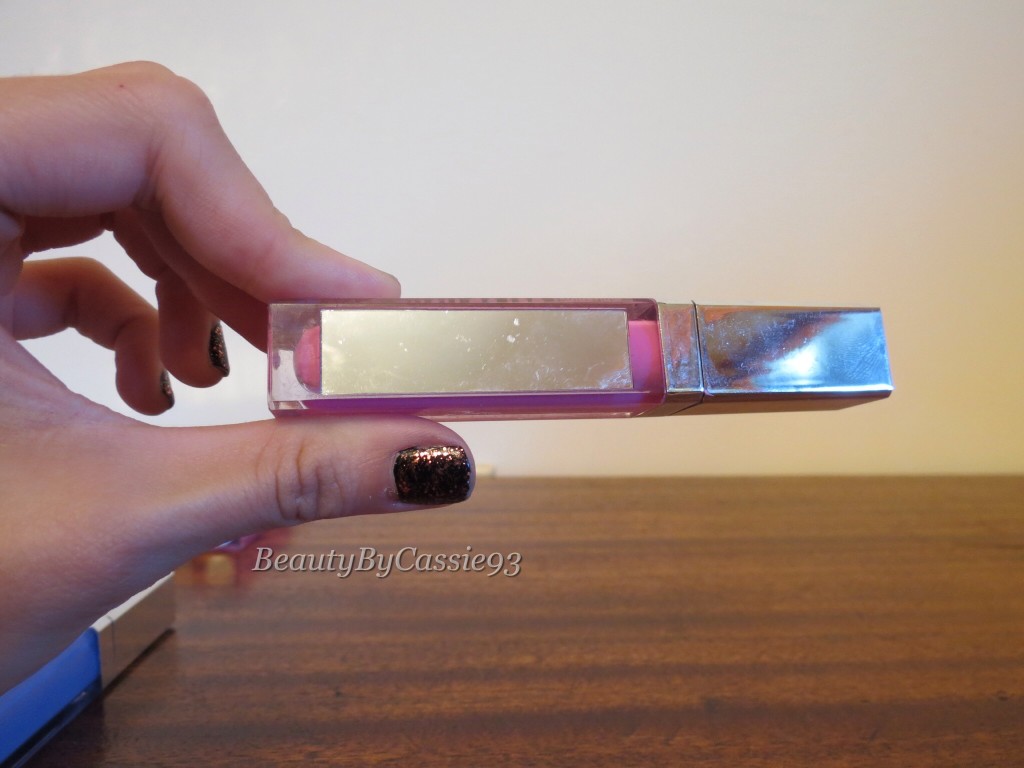 When you open the gloss you'll find an LED light built into the wand.  The LED light turns off after you insert the wand back into the packaging and twist it to close it.  It's perfect if you're at a club or party and it's dark out.  The glosses also have a doe foot applicator, which is my favorite because it applies the product the easiest in my opinion.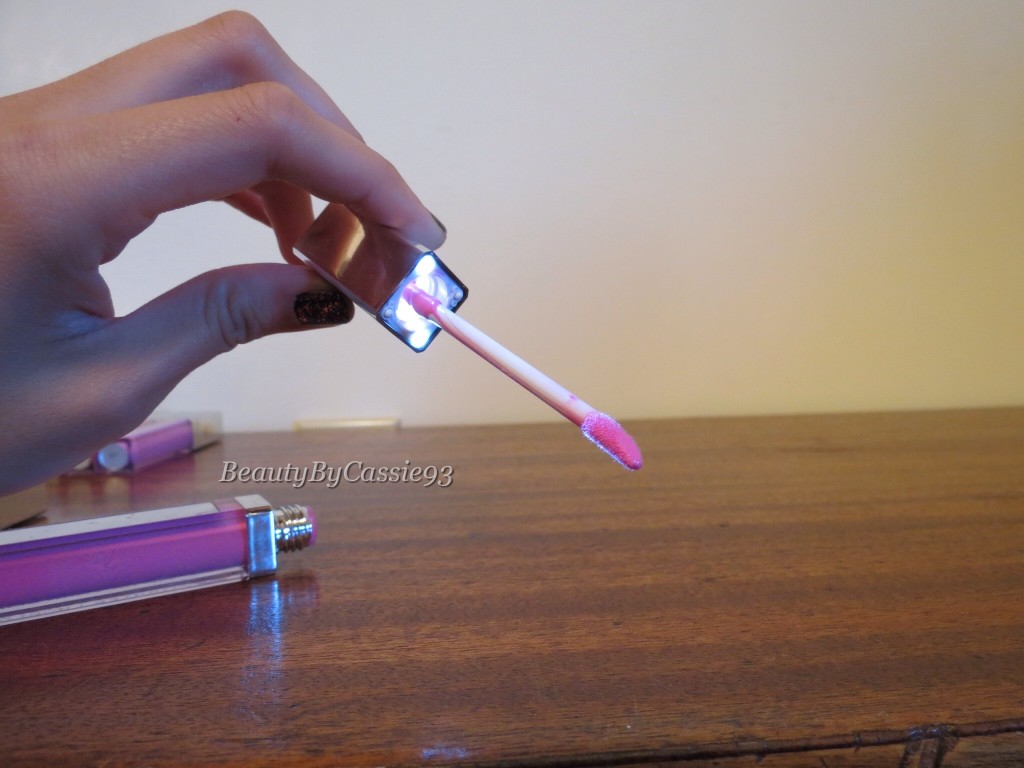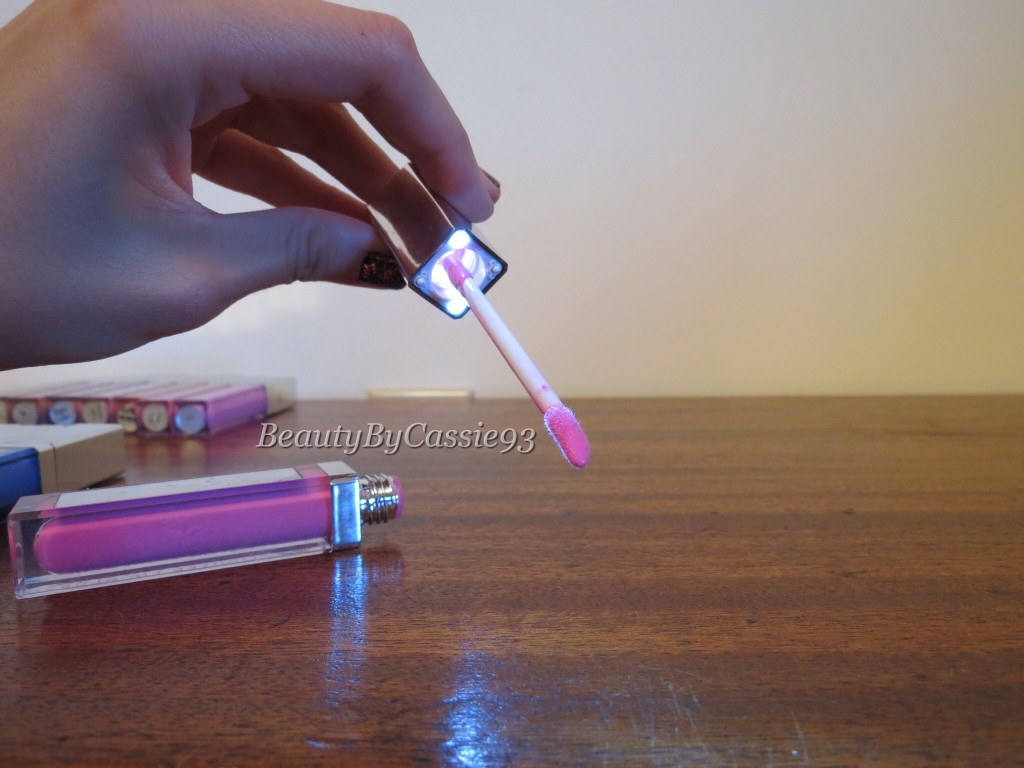 I have a total of 16 colors, which I have swatched in indoor light with no flash and then with flash.
Crystal is a shimmery nude that's perfect for dabbing in the center of your lips to highlight them and make them appear more plump.
Nude is exactly what it sounds like, a gorgeous nude with no shimmer.  I love this gloss alone or topped over a nude lipstick.  It's even awesome over lipsticks that you want to tone down.
Butter Cream is a pink-y nude with no shimmer.  This gloss is also beautiful over nude lipsticks as well as pink ones.
Sugar Mama is a very milky pink shade with no shimmer.  It's not the most flattering shade on me but it's nice over nude lipsticks.
Coral Craze is another one of my favorites.  It's a milky coral with no shimmer and it's beautiful alone or paired with a coral lipstick.  I wore this one non-stop this past Summer.
Pink Tiara is a light warm pink with no shimmer.
Fiji is light cool toned pink with no shimmer.
Raspberry Sherbet is a darker cool toned hot pink.  This shade is perfect for bright summer lips.
Salmon is a deeper coral than Coral Craze and has no shimmer as well.  This shade is another great one for the summer months.
Pouty Princess is a shimmery berry pink shade.
Rose Hill is a beautiful rose shade with no shimmer.
Summer Sun is a gorgeous bright orange shade without shimmer.
Candy Apple is the perfect red with no shimmer.
Jewel is a dark berry shade with slight shimmer.
Seduction is a super dark borderline black shade without shimmer.  It's perfect for Fall and Winter.  I would probably use this gloss over a lipstick though just because it can look a little patchy on its own.
Bermuda is a pastel purple shade with no shimmer.  It's not a shade I would probably ever wear in public unless I was going to a Halloween party or something like that.
Overall, I'm really impressed with these glosses.  They aren't sticky yet they last on the lips.  They also have amazing pigmentation.
**I have a coupon code for anyone interested in purchasing the Color Your Smile Lighted Lip Glosses or any of Whitening Lightning's other products.  Use the code cassie for 25% off of everything on Whitening Lightning and Gerard Cosmetics.